Get to Know About Prime Site Work
Concrete Services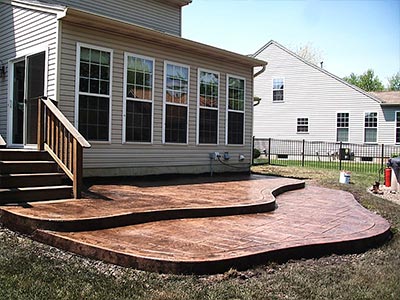 Our passion and expertise at Prime Site Work & Concrete, Inc. are constructing sturdy and aesthetically pleasing outdoor areas and surfaces for our client's properties. We provide landscape design and installation, stamped and colored concrete services, flatwork concrete, demolition, excavation, grading, and trucking services. We will work with you to achieve your goals so that your outdoor areas and constructions fit your standards. As competent specialists, we are always eager to exhibit our expertise by personalizing your space and helping you achieve your outside goals and objectives. Our outstanding design talents and well-proven methodologies mix usefulness and beauty to accomplish unique solutions. Because we provide a variety of services under one roof, you get a seamless experience and exceptional value for your money. Our efficient and knowledgeable team works with you to guarantee the result meets your requirements. All our projects reflect our design expertise and dedication to quality construction.


CUSTOM CONCRETE DESIGN
We are a well-known concrete and site work company specializing in installing structural concrete with specific designs. For many decades, concrete has been one of the most popular building materials on the market. One of the primary reasons for this is that the material is exceptionally durable. Concrete is a constructed, durable substance that is adaptable, long-lasting, and inexpensive. Our staff will custom-create any residential or commercial landscaping or hardscape project. We will collaborate with you to create a concrete installation that meets your and your property's demands. We recognize the significance of personalization and strive to provide the most effective solutions for our clients. Our designers employ sophisticated landscape design tools to develop new and original solutions for you at the lowest possible cost. Our focused approach and extensive expertise in the field ensure that you get value for money when you hire us. Read More About Custom Concrete Design »


DECORATIVE CONCRETE
Decorative concrete is beautiful and can be imbued with various styles and patterns to provide eye-catching appeal to anything it is used for, as opposed to the drab, utilitarian appearance you may be used to. Whether inside or outdoors, the range of finishes, colors, and other architectural elements of decorative concrete may complement any aesthetic aspirations. Typically, sidewalks and floors that get a great deal of foot traffic deteriorate soon. Both outdoor and indoor spaces can benefit from decorative concrete. It provides a vast array of options for homes. Using decorative concrete, we may give floors, walls, pathways, and approach surface the look of numerous materials. You can choose your preferred look from textures, including smooth, grooved, patterned, stamped, engraved, and etched surfaces. Our professional staff will add cost-effective and visually beautiful decorative concrete components to your home renovation ideas. We customize our services, so you get superb outdoor surfaces aligned with your needs. Read More About Decorative Concrete »


COLORED CONCRETE
Colored concrete is a beautiful and versatile way to alter the appearance of your flooring. Concrete floors and walls can be colored to match any color palette, whether attempting to create a welcoming atmosphere for customers or a relaxing space at home. Several staining patterns are available, ranging from contemporary, vibrant hues to traditional, subdued tones. Four alternatives are available for coloring concrete: stains, incorporated colors, pigment hardeners, and dyes. Each of these processes has advantages and produces a different aesthetic. You can choose from an exciting color palette, including yellows, oranges, and shades of red, with some grayish-blue tints. A specific absorption rate necessary to get the desired hue is rather exact. Our company has vast expertise in colored concrete, and we provide these services at cheap rates and can accommodate your specific demands. We tailor our services to align with customer needs for the best outcomes. Read More About Colored Concrete »


STAMPED CONCRETE
Stamped concrete is versatile and attractive for a range of applications. It is often used in commercial structures. Using stamped concrete in a more cost-effective manner, we can imitate the look of other materials, such as stone, brick, tile, or even wood. Available patterns include slate, Ashlar limestone, herringbone, and cobblestone, among others. Additionally, we can color-stamped concrete to almost any shade. It outlasts typical paving materials and is less expensive overall. It is not surprising that stamped concrete is gaining popularity in the area, particularly among companies and homeowners that want durable surfaces for high-traffic walkways and patios. Stamped concrete is an economical alternative to other external and interior surface options. The lower overall cost is due to less labor-intensive installation requirements than other choices, such as natural stone or pavers. We provide bespoke stamped concrete solutions, and our team is available to assist with design and color suggestions for the best impact. Read More About Stamped Concrete »


FLATWORK CONCRETE
Because of its unquestionable durability, concrete flatwork remains the most popular option among customers and builders. Depending on its composition, care, and the daily difficulties to that it will be exposed, it may endure at least 30 years. It is also resistant to natural disasters, corrosive dampness, wind, and sunlight. Furthermore, concrete is known for its exceptional thermal mass capacity. The standard gray hue is beneficial for maintaining a comfortable temperature indoors or outdoors. Indoors, however, a concrete flatwork improves air quality by reducing the need for carpet due to its low volatile organic compound emission. Our company has also teamed with the best aggregates and concrete providers to guarantee that all our concrete flatwork projects are of the highest quality. In addition, we have modern machinery and the proper tools for combining, leveling, shaping, flattening, and finalizing the surface. Our company offers the best solutions at pricing that fits your budget perfectly. Read More About Flatwork Concrete »


POURED FOOTERS & WALLS
A footing underpins the foundation of any building. This assures that the whole structure will never collapse due to temperature fluctuations, soil compaction, or soil movement. In this sense, there is no better material than cast-in concrete, which can be shaped to any specifications and is adaptable to variations and movements in the ground. Although cast walls are not as delicate as poured footings, they must be sturdy and enduring. Although there are various techniques for constructing walls, the poured method remains superior since it is erected on the spot. For example, we must place concrete blocks onto one another, and though this may be aesthetically pleasing, it affects the walls' strength. Even though blocks include steel bars for increased stability, poured walls remain sturdier. The construction of our concrete footers and walls is of unmatched quality and is affordably priced, so you get value for money every time you hire us. Read More About Poured Footers & Walls »


CONCRETE POWER WASHING
We provide concrete power cleaning and resealing services to commercial and residential clients across Colorado. We have years of expertise revitalizing concrete pathways, patios, pool decks, driveways, walkways, and many other surfaces. The concrete surfaces' conditions can significantly impact the appearance of your house or business. If your floors deteriorate or require a thorough cleaning, you've come to the perfect place. Whether your concrete surfaces are affected by oil or sap stains, mold, or mildew, we can restore them to pristine condition! To power wash concrete, a high-powered pressure washer occasionally uses chemicals or detergents with water. The objective is to clear the concrete surface of any dirt and debris. The power washer's high pressure is sufficient to eliminate most surface stains. We regularly work on concrete power washing projects for residential and commercial clients and ensure that these surfaces are stain- and dirt-free. Read More About Concrete Power Washing »


CONCRETE RESEALING
We provide residential and business clients with individualized concrete resealing services. There are several advantages to regularly resealing your concrete flooring. The application of a sealer to any concrete floor creates a protective barrier. Sealants can be a barrier against oil and dirt stains, as they cannot permeate the surface. The sealant safeguards the concrete floor below from any pollutants that might harm its appearance or functionality. Regularly resealing your concrete flooring helps increase the longevity of your floor. Sealants are designed to provide your floors with a protective coating that will allow you to enjoy your flooring for a more extended period. We have the expertise and experience necessary to do the task correctly and effectively the first time. We have the most up-to-date equipment, are highly skilled at running it, and provide effective services. Read More About Concrete Resealing »


EXCAVATION & GRADING
During the duration of a building project, the state of your land becomes vital. We provide our clients in Colorado with superior excavation and grading solutions for both commercial and residential properties. If a construction site is not properly prepared, it can negatively impact the project's quality. In other words, if your ground is not level and correct grading is not performed, your outdoor kitchen, patio, or deck will eventually suffer. It is why employing excavation, and grading experts are advantageous. Our excavation specialists have access to all the necessary tools and equipment to remove debris safely and leave your site spotless and ready for the building phase. We evaluate your site and the current building project during the grading process. We analyze the soils and grading requirements for your specific project. No matter how big or small the job, we are here to help with all your excavation and grading needs. Read More About Excavation & Grading »


UNDERGROUND UTILITIES
The layout and preparation of the earth for the placement of utilities is perhaps one of the essential aspects of any site preparation. Without this stage, a home or commercial construction project will inevitably miss crucial components for ensuring its smooth and secure operation. Although the utilities vary between residential and commercial enterprises, these two projects require a well-functioning drainage system. It's where the services of experts like us are most needed. We are specialists in the installation of drainage and other utility systems. First, we know precisely where and how to construct drainage systems so that they do not interfere with other home or commercial structure components. In addition to installing drainage systems, we also build utility lines such as pipework and water supply connections, electrical cables, cabling, and subsurface irrigation systems. We handle big and small projects on residential and commercial properties. Read More About Underground Utilities »


LAND CLEARING
Land clearing is one of the most challenging aspects of any residential or commercial construction project. Even a tiny vacant lot may be a strain to clear undesirable plants and rubbish, and most would-be do-it-yourselfers are likely to be at a loss as to how to commence, and land cleaning is not a task suitable for everyone. Currently, construction projects cannot go from the plan to the completed structure without cleaning the site of waste, stumps, trees, bushes, and other possible safety risks. Our business does all concrete and groundwork services for residential and commercial clients with the highest expertise and speed. Only trained and experienced professionals are dispatched to perform the clearing operation. In addition, we have the necessary land clearing equipment and tools to execute fundamental to complicated, big or small, commercial and residential land clearing tasks. We customize our services and complete every land clearing job efficiently and safely. Read More About Land Clearing »


LANDSCAPING
Whether you are building a brand-new landscape or remodeling an existing one, we have a team of skilled landscape contractors and designers ready to improve the aesthetics and functionality of your property. At our company, we create a wide range of landscape components that will enhance the aesthetic appeal of your house or business. Our expert landscaping staff will help you through your project's entire planning, design, building, and maintenance phases. We have the experience and skills to transform your existing landscaping into a beautiful setting that you, your family, and your friends can enjoy for years to come! To bring your outdoor areas to life, our landscape planners will provide you with landscape design suggestions and include your ideas. We can install outdoor kitchens, decks, and patios that improve the visual appeal of your house or business while boosting its value! Read More About Landscaping »


DEMOLITION
We are easily accessible if you have a home, structure, building, or concrete and masonry components you need to demolish. Always rely on competent and dependable demolition contractors to complete the work correctly the first time. For the safety and success of the demolition project, it is imperative to use the most qualified professionals. We have served the Colorado region for many years as a competent demolition and site preparation contractor. We have effectively demolished residential and commercial structures, leading to a lengthy list of delighted customers. We have the essential experience and knowledge to complete the task successfully. Our team understands how to manage this job without damaging other constructions on your land or nearby buildings. We can save you time and money by delivering safe and dependable demolition services. Our team will work with and plan the demolition well before starting the work. Read More About Demolition »


TRUCKING
You've found the right business if you're seeking superior trucking services. Each year, we transport and relocate hundreds of tons of dirt, rock, cement, and plant debris throughout Colorado. As a result of our many years of expertise in performing this task consistently, we can confidently claim to be among the finest in the business. Customers are given the highest level of attention and professionalism, and we blend traditional service ideals with cutting-edge heavy lifting and transportation equipment. In addition, we provide practical solutions for any logistical obstacles so that you receive superior service. Our organization can transport extra soil from digging and excavations, as well as rubble and debris from demolition projects, including concrete, shingles, and more. Regardless of the project size, we offer the most dependable trucking services. We know the importance of proper scheduling in these projects, and our team manager will perfectly plan the hauling activity timeframes. Read More About Trucking »

We specialize in concrete work and offer decorative concrete services tailored to the client's specifications. Our professionals are available to provide advice and suggestions for optimal appearance and performance. As you can see, we provide various supporting services so that you can access them conveniently under one roof. We provide quality, dependability, and affordability; you don't have to break the bank for great solutions. Our team will collaborate with you to provide the most suitable solutions. Prime Site Work & Concrete, Inc. can be reached at the following numbers for more details about our commercial and residential colored concrete solutions, demolition, trucking, land clearing, and landscaping services. Our company guarantees safe, fast, and competent residential and commercial services, regardless of the project's size or complexity. For additional information, please call Prime Site Work & Concrete, Inc. at either of these numbers- Phone: 720-445-1606/Mobile: 716-998-2571. You can also drop us a line through this Online Form.